the results
In 2001, sales from continuing operations increased 15% from £3,689m to £4,225m and operating profit before goodwill and exceptional items increased 3% to £426m (this excludes the £37m profit* contribution from Pearsonís 22% stake in the RTL Group, the planned disposal of which was announced on 24 December 2001). The 2001 figures include the first full-year contributions from Dorling Kindersley and NCS Pearson and losses from our internet enterprises, which reduced by 30% to £137m from £196m. Adjusted earnings per share fell 29% to 22.5p with the growth in profits from continuing operations offset by a drop in the earnings contribution from the RTL Group, higher interest and tax charges and the impact of minorities. Profits from newspaper and television advertising-related operations were £116m lower than in 2000. On an underlying basis, sales were flat year-on-year and operating profits fell 2%.
A reported loss before taxation of £438m reflects increased goodwill amortisation charges, £153m of write-downs relating to Dorling Kindersley and a number of smaller acquisitions and equity investments, and a further £123m of non-operating losses relating to businesses closed or sold in the course of the year. Integration charges increased from £40m to £74m, reflecting the costs of integrating Dorling Kindersley and NCS Pearson. The total negative cash impact of all these items was £5m.
the financial times group
In the toughest advertising market for a decade, in which business-to-business advertising was particularly adversely affected, the FT Groupís revenues declined by 5% and profits by 27%.



The Financial Times newspaper ended the year with December average daily circulation of 501,259, an increase of 3% on the previous year. International circulation continued to grow strongly, particularly in the US with sales up 9% to 141,000. After a strong start to the year, advertising declined sharply in May and June and further still in the third and fourth quarters. For the full year, advertising volumes were down 29% and advertising revenues down 20%. Benefiting from a series of measures to protect profits, operating margins at the FT newspaper were significantly higher than in the last advertising recession.
At Les Echos, average circulation was flat at approximately 127,000, gaining share in a French national newspaper market that was down 4%. Advertising volumes were down 21% and advertising revenues down 20%, contributing to a 45% decline in profits at Groupe Les Echos. Actions taken to reduce costs ensured Groupe Les Echos remains Franceís most profitable newspaper group.
At Recoletos, (bolsa madrid:rec), our Spanish media group, revenues were flat on last year, with advertising revenue declines offset by cover price increases and higher circulation revenues. Profits declined by 39% as Recoletos invested in new media channels and new markets in the Spanish-speaking world. Circulation was down 16% to 53,000 at business newspaper Expansión, down 8% to 372,000 at sports newspaper Marca and up 8% to 314,000 at El Mundo, the daily newspaper in which Recoletos holds a 30% stake.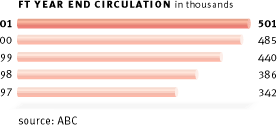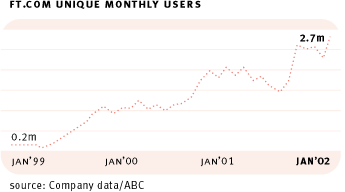 Interactive Data Corporation (nasdaq:idco), the FTís asset pricing business, in which Pearson owns a 60% share, had an outstanding year with revenues up 12% and profits up 14%. Its institutional business, which provides asset pricing services to major financial institutions on a subscription basis and accounts for approximately 90% of IDC revenues, continued to prove extremely resilient.
The FT Groupís internet enterprises (which include the online businesses of the Financial Times, Les Echos and Expansión as well as our share of FT Deutschlandís FTD.de, economist.com, CBSMarketWatch and eSignal) generated revenues of £51m, up 21% on 2000, despite the advertising downturn. Losses were lower at £60m as start-up costs fell away as planned and as we aggressively integrated the FTís internet businesses.
FT.comís popularity continues to increase and in January 2002 it achieved 55 million page views (up 29% on January 2001) and 2.7 million unique monthly users (up 37%). FT.com has successfully introduced new revenue streams, including content syndication and premium services, so that advertising now accounts for approximately 60% of its revenues (compared with 85% in 2000).
The Economist Group, in which Pearson owns a 50% stake, increased circulation of its flagship weekly title by 10% to 830,000. It too felt the impact of the advertising downturn, with its contribution to the FT Groupís profits declining. The Economist Intelligence Unit has successfully transformed itself into a digital business, with more than 70% of revenues now being electronic, and Chief Financial Officer magazine is expanding internationally.
FT Deutschland, our joint venture with Gruner + Jahr, delivered robust circulation growth. For the fourth quarter of 2001, circulation was up 18% on the previous year to 78,000. FTD also continued to gain advertising market share, though the market was particularly tough.
FT Business, the FT Groupís UK specialist financial magazine publisher, increased share and maintained advertising revenues in a tough market.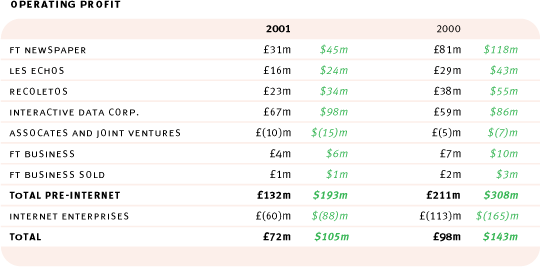 the penguin group
The Penguin Groupís total sales increased 9%, boosted by a full-year contribution from Dorling Kindersley. Underlying sales were up 3% with continued strong bestseller performance partially offset by industry-wide softness in travel books and backlist sales. Operating profits were £80m, up 1%; these include losses of £7m at Dorling Kindersley. Underlying operating profits increased by 6%.



In the US, Penguin Putnam posted a record performance on the bestseller lists for a fifth consecutive year. One hundred and thirty nine Penguin Putnam titles reached the New York Times adult and childrenís bestseller lists, an increase of 30%. Over the last four years, Penguin Putnam has increased its share of the hard cover bestseller list from 11% to 18% and its share of the paperback lists from 14% to 24%. In the UK, Penguin had another strong year of bestseller performance, with 41 titles reaching the Booktrack top 15 (up 5% on 2000). At Dorling Kindersley (assuming we had owned Dorling Kindersley for the whole of 2000), pro forma sales were 20% lower due to the closure of the loss-making DKFL and multimedia operations and a one-off increase in returns in the US resulting from actions to improve the distribution network. Pro forma losses fell to £7m from £21m the previous year. Animal, the first title in Dorling Kindersleyís new frontlist, exceeded all expectations, selling more than 500,000 copies in 23 languages since its launch in October 2001.
Together, Penguin and Pearson Education generate more revenues from books than any other media company in the world. In 2001, we initiated a number of actions to capitalise on our scale to reduce the use of working capital and deliver savings across our back office operations.


pearson education
Revenues and operating profits increased by 25% and 16% respectively, including the first full year contribution from NCS Pearson. Excluding NCS Pearson and other acquisitions and disposals, underlying revenues increased by 1% and operating profits fell by 5%. On a pro forma basis (assuming we had owned NCS Pearson for the whole of 2000), underlying revenues increased by 3%. Difficult market conditions hit the operating performance of our technology publishing and Latin American educational publishing operations, reducing operating profits by £30m.



Our US School business increased underlying sales by 6% (8% on a pro forma basis). Basal and supplementary publishing sales increased by 9%, ahead of the market. Scott Foresman, our elementary school publisher, took 25% of state adoption revenues (34% of those competed for) and had the yearís best-selling reading programme. Prentice Hall School, our secondary school publisher, took 30% of state adoption revenues, and is now the nationís biggest secondary publisher. Assessment and testing revenues increased 18% as states such as California, Florida and Texas increased their testing programmes. Sales of curriculum and school enterprise software fell 2% as the uncertain economic outlook caused schools to defer discretionary spending.
Our US College business increased underlying sales by 5%, slightly ahead of the market as a whole. The business benefited from its online investment, with more than 60% of revenues generated through bundled textbook and internet programmes. Over 900 colleges are now running courses on CourseCompass, our online course management system launched last year.
The underlying revenues of our US Professional business fell 21% (14% on a pro forma basis). Our technology publishing business was hit hard by the industry-wide recession but gained market share and, through early action to reduce costs, sustained healthy margins. Our government solutions business, which helps to test and train federal staff in customer service and technology skills and operates large-scale data management projects, increased revenues by 18% (stripping out the benefits of the decennial Census contract in 2000 and an acquisition made in 2001). We saw modest revenue growth in our professional assessment and certification business offset by an expected fall in revenues from data management services.


Our International operations saw underlying revenues decline by 2% (and by 1% on a pro forma basis). Growth in our English language training (ELT) business was offset by a fall in revenues from technology publishing. Our school and college publishing operations in Asia, Europe and South Africa all performed well. In Latin America, particularly in Argentina and Colombia, trading performance was badly hit by the economic downturn. We restructured our operations in the region, tightening our credit terms and increasing reserves for obsolescence and bad debts.
On a standalone basis, total sales at NCS Pearson were up 1% to £592m and profits were up 30% to £63m, benefiting from the integration into Pearson Education. Stripping out the benefit of the decennial US Census contract in 2000, underlying sales were up 6% and underlying operating profits were up 47%. (All reported figures for NCS Pearson include Computer Curriculum Corporation, which has been fully integrated within NCS Learn, our curriculum software business).
Losses of £23m at FT Knowledge reflected a slowdown in the corporate training market, restructuring costs and the impact of the September 11 terrorist attacks on the New York Institute of Finance, which was based in the World Trade Center. Losses from education internet enterprises fell to £77m. We fully integrated Learning Network, our consumer education portal, within Pearson Education, reducing its cost base by 75% by the end of the year. Pearson Broadband, our new multimedia education business, made a good start in its first year of operation. It launched KnowledgeBox, its interactive classroom curriculum product, in the US and Asia and created a joint venture to produce educational English language programming for CCTV, Chinaís state broadcaster.